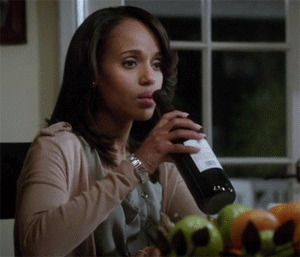 Everyone who knows me knows that I LOVE Scandal (the TV show, not the noun). #Gladiators.
As a huge fan of the show I know that Ms. Pope often enjoys a good red wine. Whether it is from one of her overly large wine glasses or straight from the bottle (real emergencies only).
Disclosure: Some of the links in this post are affiliate links. This means if you click on the link and purchase the item, I will receive an affiliate commission.
A while ago, I discovered the ginormous Olivia Pope wine glasses from Scandal, as I have been calling them, are the Camille red wine glass from Crate and Barrel.
I have had my eye on the "Olivia Pope" wine glasses (it appears exactly that way on my "to buy" list) for a while. So I was happy to learn that Crate and Barrel is having a 20% off sale on "wine and dine" items until November 11th! I stopped by the Soho store and picked these up ahead of Thanksgiving dinner. Great timing! Some of their stemless wine glasses are actually under $2 each. Gasp!
Please see my update below since the sale has ended.
If you do decide to order this online from Crate and Barrel, free shipping is included, know that the Camille glass comes in two sizes: one for white wine and another for red wine. Although both are the same price, the "real" Olivia Pope wine glasses are the Camille red wine glasses (the larger ones), which I bought. I am not a big red wine drinker but I just love how huge these wine glasses are! I hope any wine aficionados who visit will forgive me for serving white wine from a red wine glass.
These wine glasses are quite tall (10.25 inches high) and also feel very dainty. You definitely want to store these properly and handle with care.
UPDATE
Since the C&B sale has ended, these glasses are back to full price ($12.95/glass). The combination of a tall stem and large "fish bowl" or "bubble bowl" is relatively unique and not easy to find at a bargain. However, since not everyone has the means to spend $13 on a single wine glass, I found some less expensive alternatives so you can have your own Olivia Pope wine glasses for a bargain. (clicking on the images will take you to the product pages)
Please note I have not tried any of these! Read the reviews yourself and decide. Most wine glasses seem to hover around a height of 8inches so most of what you find online will be a bit shorter than the Camille wine glasses.
BEST MATCH: The Lenox Tuscany Classic Grand Beaujolais. The tallest I found (9.5 inches) and it holds 24oz (slightly larger than the Camille) and a great price!

Stolzle Vienna Balloon wine glass. The second tallest I could find at 8.9inches and the second largest "bowl" that holds 22oz (the "real" Camille glass holds 23oz).
This Vina wine glass from Libbey.

And, the ARC International red wine glass