I am excited to announce we now have a horizontal surface on which to eat and serve food. Up next I will be hosting a 6-course intimate dinner to show off our West Elm dining table. Not really.
Fun fact, we have not had a "real" dining table for almost two years. Before moving from New York to Seattle, we sold our old Norden gateleg table and did not bother with a replacement. After the move, a dining table was very low priority.
Even after we bought the house we continued eating on the couch, like heathens! We got so used to couch eating that I debated getting tv trays. The moment of truth arrived when I came home with takeout pho and tried to eat it on the couch. If you love pho then you know that it would take great skill to eat while sitting on a couch. Where would I place the sauces for dipping the noodles? I knew it was time to find a dining table.
We entertained the idea of Ikea again, briefly, but realized we wanted something a bit different. What do you do when you are sort of past the Ikea stage but not quite ready to drop $3000 on a dining table? You buy a West Elm dining table of course.
I still love Ikea though. We were there just last week.
The West Elm dining table we chose was the Mid-Century Expandable Table. This table fits our space (max width is 55inches) and looks great! Since what we have is more of a dining space than a dining room we didn't want a table that would overpower the space. Of course, I also love mid-century inspired furniture and everyone knows West Elm also loves mid-century furniture.
This West Elm dining table is the most expensive dining table we have ever bought. The last "serious" dining table we had was when we lived in Chicago and found a $1500 Pottery Barn dining table for $250 on Craigslist. It was a moving sale. We also sold that table when we moved from Chicago to New York.
As I type this, I am realizing just how much furniture I have lost over the years because of moving around so much.
This dining table was the first purchase we made for this space and also the most expensive piece. It looks great! I love the shape of the table and the color.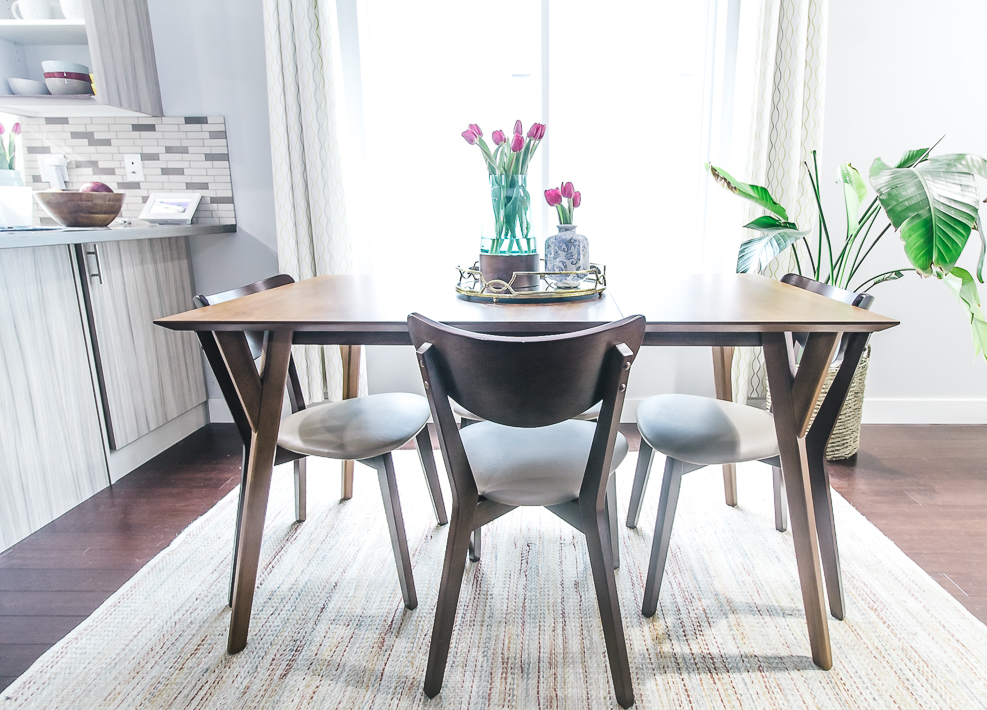 Sidenote: you may have noticed we have "open shelving" in the kitchen. We removed all the cabinet doors to see if we liked the look of white shelves. We are thinking of painting the cabinets. So far so good.
All the pieces in this space are from different sources. For example, the chairs are deliberately a different color wood and come from a local consignment store in Seattle. You can find the chairs online at larger retailers although the online pricing is a bit higher.
Below is the list of items from our dining table space (or similar items where pieces are sold out). The only two things not listed below are the vases. The green vase is sold out (from Target) and the blue/white vase is from a local crafts store. I've included similar items.
Disclosure: Some of the links in this post are affiliate links. This means if you click on the link and purchase the item, I will receive an affiliate commission.
Now that we have this set up, I'm off to enjoy dinner on our new table.