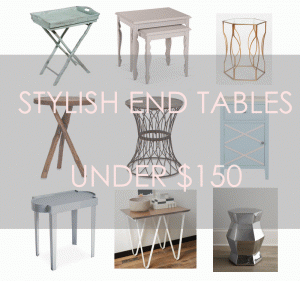 A stylish end table can really tie a living room together. That is, of course, if you have the space for one. We could probably squeeze in an end table or two in our current apartment but I would like to save that for after we have everything else set up. Then we will see how much space we have left.
I'll be sharing an update of what our new space looks like soon! I am a REALLY slow decorator. Sorry!
While daydreaming about the day when I will have enough space for multiple end tables in a living room (with floor to ceiling windows and a view of the ocean of course) I found some great looking end tables for under $150. I've broken them down by price so you can find something that fits your budget. Enjoy!
Disclosure: Some of the links in this post are affiliate links. This means if you click on the link and purchase the item, I will receive an affiliate commission.
Under $75
Less budget friendly but still affordable…
$75 – $150
Of course you could spend a lot more than $150 on a great end table. I do think, as an apartment dweller, it is a bit difficult to justify a $300 end table. I don't think I will be spending a lot of money on furniture until I pay a mortgage instead of rent!
In other news…this week we were in Queens to watch US Open tennis. Udo scored us tickets to the men's final match (Marin Cilic vs Kei Nishikori)! Attending the US Open has been on our bucket list for a while so it was great to finally be able to see a match live. I am so grateful for the little things we get to do because we live in NYC! I shared a couple of pictures on Instagram but most of our pictures were taken with my Canon DSLR. It was a really great experience and we might go again next year since Udo was disappointed he didn't get to see Nadal/Federer/Djokovic/Murray play.
I really am optimstic I will post more often. Really.