A bar cart has always been on my "get list" for our living room. I've always liked the idea of having a place to store alcohol and glassware (that is not the kitchen cupboard). I also tried to keep our bar cart simple by sticking to the basics.
Having a bar cart, and keeping it stocked, means I usually have (most of) the cocktail ingredients available if I want to try something new. A bar cart is also great for entertaining and can be a great decor piece for your living room. Our bar cart sits in a formerly empty spot between the sofa and a window. Our living room isn't super large but we were able to make this work without crowding the space too much.
If you search for bar carts online you will find many options in many styles at many price points. There are even some Ikea hacks so you can also DIY. However, long before purchasing a bar cart I already knew I would be getting mine from Target.
I have walked past the bar carts at Target multiple times and always liked the look of this Threshold bar cart. I've seen bar carts from West Elm as well that I also liked but, I always preferred this Threshold bar cart. This cart is a great size for a smaller space and is "mid century modern" but can still fit in with most living rooms. It is also reasonably priced  ($120) compared to similar expensive bar carts (>$300).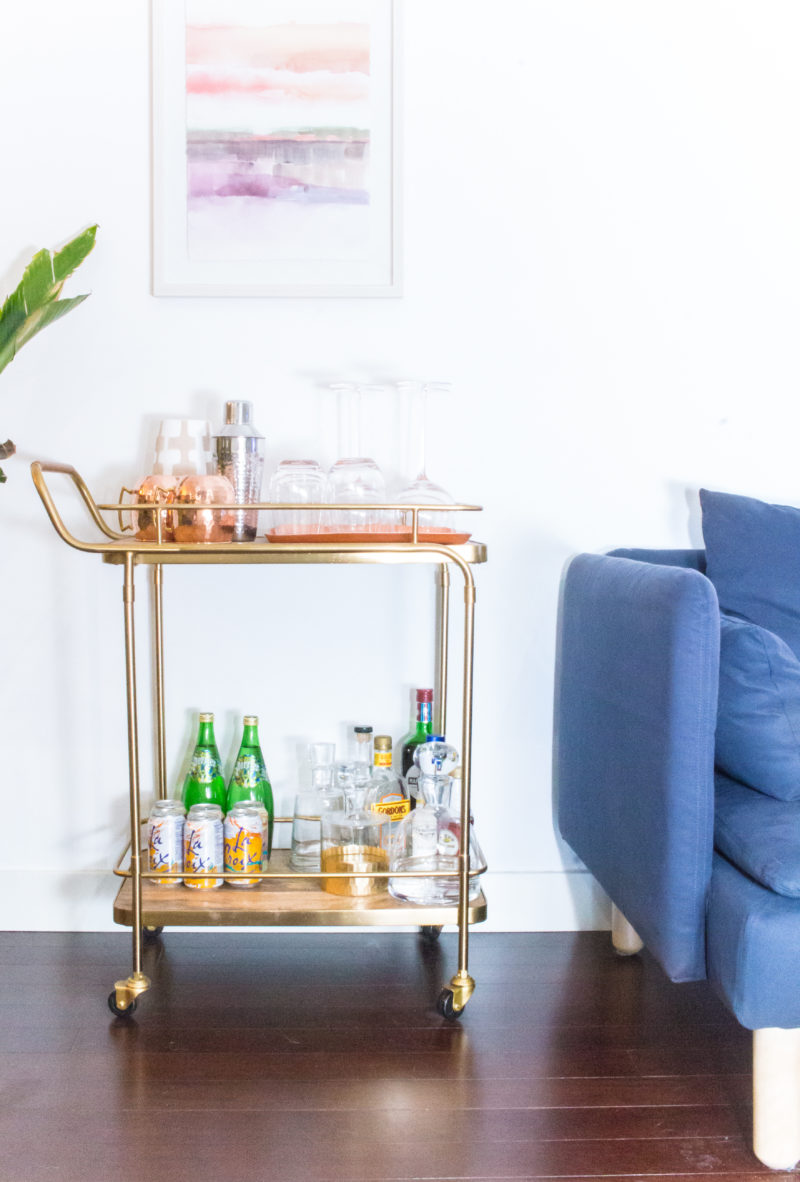 So, what's in the cart?
I've had the copper mugs, cocktail shaker, and stemmed "Olivia Pope" wine glasses for a while. It was great to get those pieces out of the kitchen cupboard and free up valuable cupboard space for other things. The stemless wine glasses double as cocktail glasses. The square copper tray was a recent random find from Target. I walked into our Target store to get a new dish sponge, yes really, and this tray caught my eye in the kitchen section. The copper "tray" is technically a "serving platter" but, it turned out to be the perfect size for the glassware in the bar cart. Unfortunately, I couldn't find a link to the square version of this tray, so the round version is linked instead below.
I did some research before selecting alcohol/mixers to keep in stock. I wanted to keep things simple for now since I am not exactly a cocktail master (mistress?).
Here's a breakdown of what liquor and/or mixers are currently in the bar cart. All of the below were purchased from our humble QFC (aka Kroger) grocery store.
La Croix  (because we always have so much La Croix that I need extra places to store cans)
San Pellegrino Sparkling Water (because it's fancier)
Vodka & Gin & Rum in 3 glass decanters (each decanter has a label underneath)
Simple Syrup
Martini Rosso Vermouth
Grenadine Syrup
Angostura bitters
Any juice or fruit needed for a cocktail stays in the fridge until it is needed. I might get an ice bucket at some point but ice from the fridge/freezer works fine.
So far I like the look of the cart and it has really pulled the living room together. The gold from the bar cart closely matches our coffee table while being a practical decor piece. I've been able to use all the freed up kitchen cupboard space to store appliances that typically sit on our kitchen counter. So there's less clutter in the kitchen as a result. Love it!
Here's a full list of the drinkware/glassware from this post. Thanks for stopping by!
Get the Look - Bar Cart
Disclosure: Some of the links in this post are affiliate links. This means if you click on the link and purchase the item, I will receive an affiliate commission.