It has been a while since I shared an update on my home office decor. I shared a picture on Instagram some weeks ago but I figured it's time for an actual "look" at my setup along with the prices of everything I have used.
As you may already know, I have had my desk for a few months. It was sort of my first DIY project and was very easy (amazing what spray paint can do). Since then I have added a filing cabinet, some wall art, and a few "accessories" to my home office decor.
If you have any questions about any of the pieces I have used let me know!
I selected an area of the apartment with great natural lighting for my work space because I enjoy working near windows (especially when there is a great view to be had).
Here's another reminder of what the space looked like when we first moved in.
Here's what the space looks like now. Because it is so close to the window I've had to make sure there is still lots of space for light to fill the room. I've avoided dark colors and "heavy" furniture that would make this look crowded.
All the pieces you see here are available from Ikea, Target, Amazon, and eBay which makes this a very affordable home office decor project. No need to break the bank.
My desk is from Ikea with a DIY upgrade you can read more about here. Total cost for the desk was under $50.
The most expensive item in the picture above (excluding the laptop of course) was the filing cabinet.
The filing cabinet is the Hirsh Industries 3 drawer filing cabinet. Available from Amazon here. The filing cabinet is currently on sale for $76.20.
The filing cabinet is a nice white color with silver/steel handles and perfect for a home office.
I used the leftover spray paint from the DIY Home Office Desk project to paint the handles copper to match the table legs. I just barely had enough to cover the visible parts of the drawer handles.
On top of the filing cabinet I have some books, one of my teal elephant tea light candle holders from Target, and a mason jar with faux Ranunculus and Poppy flowers from Afloral. The mason jars were ordered from Amazon (better pricing). I use some of the jars for food and some around the house like here.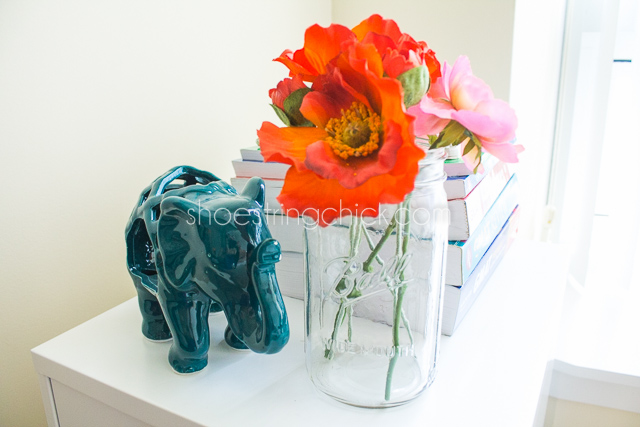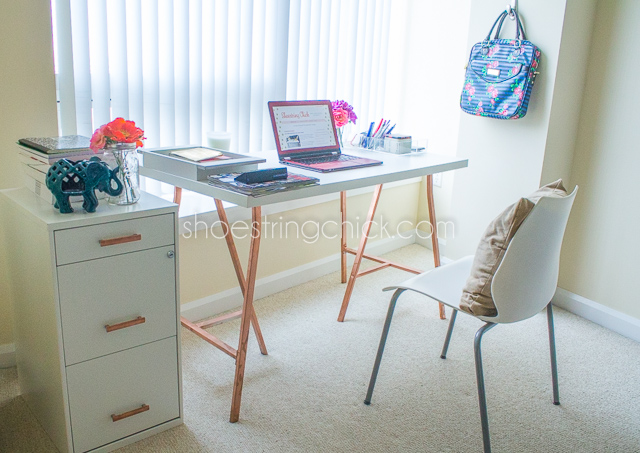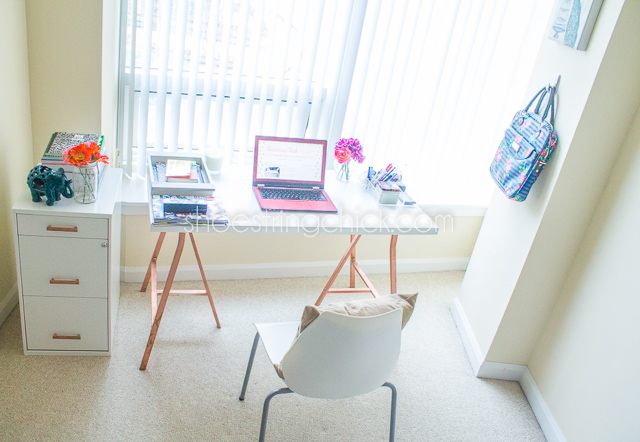 The white wood tray on the left side of my desk is a Nate Berkus piece I found on clearance at Target. The tray currently holds some of my studying notebooks.
Next to the tray is an amazing smelling pomegranate candle from Bath & Body Works/Henri Bendel that was part of a housewarming gift from my sister. You can find the candle here.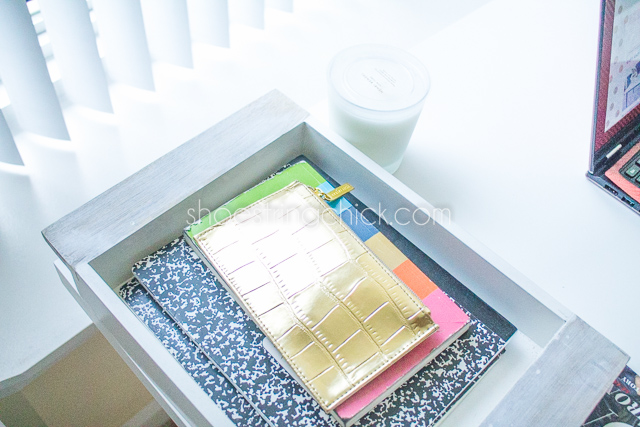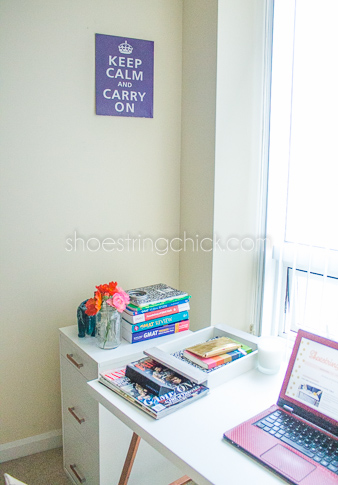 The "Keep Calm and Carry On" wall art is a metal piece bought 2 years ago at World Market in Chicago. Fitting words for a work area considering how hectic things can get.
The right wall of my work space. A Betsey Johnson laptop bag hangs as unintentional wall art below the peacock print. I bought the bag because I love the print and it looks great on the wall. There are other prints available and you can find these laptop bags on Amazon and a bit cheaper on eBay
.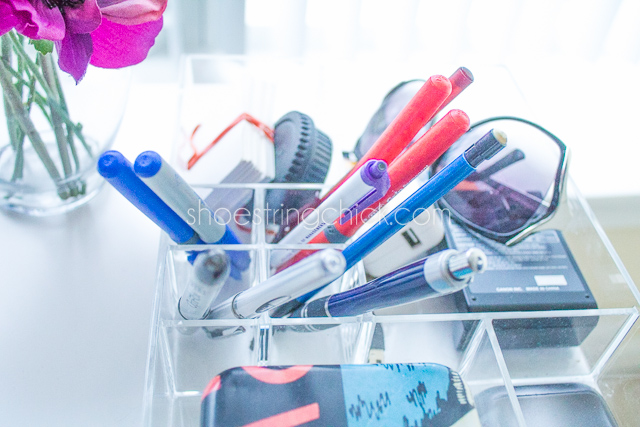 On my desk I have an acrylic tray purchased from The Container Store a couple of years ago. It used to hold make up on my dresser.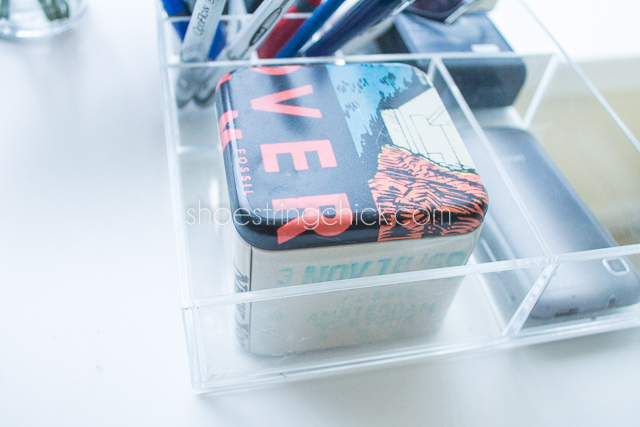 This tin box above used to hold a Fossil watch Udo bought a while ago. I claimed it and the tin box now holds odds and ends on my desk. You can find these Fossil tin boxes on eBay
if you're interested.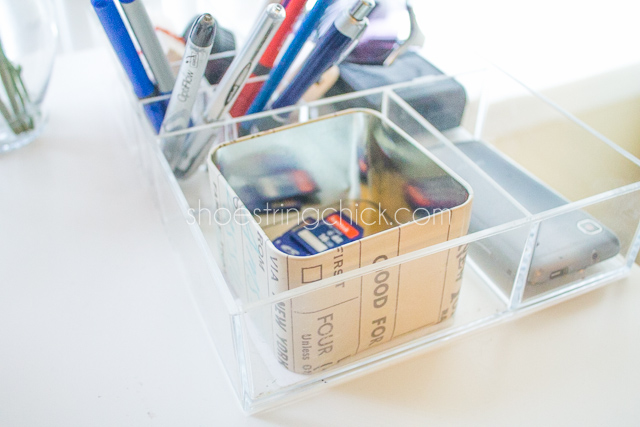 Also on my desk, more faux flowers from Afloral. This time I used Ranunculus and Sea Anemone for a pink-purple arrangement.
The vase was purchased for $2 a few months ago at a local thrift store.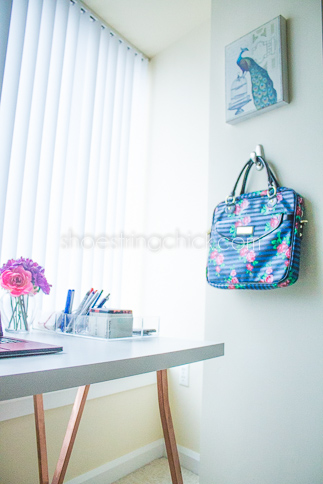 For my chair, a temporary solution while I try to find the right cushion for my rear end.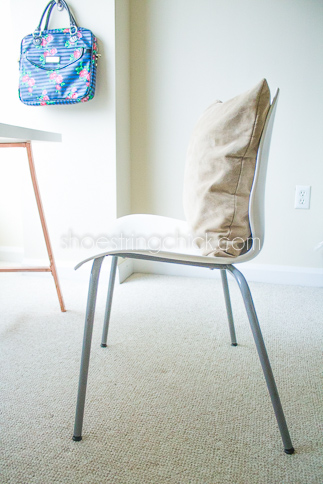 Pillow is an older one from Target and the chair is from Amazon. Available here.
Finally, look what I found underneath my desk.
Dog not included.
I hope you enjoyed this (detailed) tour of my work space. I don't think I will be making more changes to the home office decor until after we move. Maybe our new place will have more  wall space for art in the work space.
If you have any questions about anything I've shown here just leave a comment and I will respond.