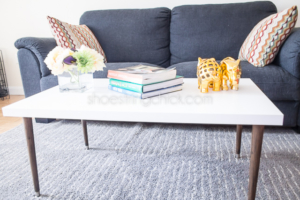 Although it is still cold in the Northeast, I am glad to be home after a very peaceful vacation in paradise! I loved Hawaii! Our vacation was fun and sun-filled but I did miss RJ a bit.
As promised, here is our easy DIY coffee table which took all of 10 minutes to set up once we bought everything we needed and did some staining.
The most complicated part of this was probably attaching the leg plates to the table top. I actually had to buy a drill (my toolbox is now coming along quite nicely thanks to all this DIY-ing).
Total cost was $45 for items (not counting the original cost of the wood stain we used or our shiny new drill).
Disclosure: Some of the links in this post are affiliate links. This means if you click on the link and purchase the item, I will receive an affiliate commission.
For this project we used:
First, we stained all the wood legs and let them dry overnight.
The next day, we had to attach the mounting plates to the table top. This turned out to be easier said than done because (as usual) we complicated things a bit for ourselves.
The Ikea Linnmon table has pre-drilled holes for screwing in Ikea legs with square Ikea mounting plates. However, the existing holes were useless for the table legs we ordered so we had to use our own mounting plates. Wouldn't you know it, we got triangular mounting plates and the Linnmon was pre-drilled for square mounting plates.
Now you see why I invested in a drill.
We had to drill a few holes so that our triangular mounting plates could be attached to the table top. I was a bit scared of drilling through the Linnmon but it all worked out. I just tried not to drill too fast.
Here's where the legs connect to the table top using the mounting plate.
Once the mounting plates were attached to the table top, the hard work began (kidding). We just screwed the table legs into the mounting plates.
All done!
Our new coffee table is complete.
I was trying to decide how to style the coffee table.
We went with the short flower arrangement for a few reasons. The biggest reason being that we have a hyper corgi that enjoys running underneath things and whatever we put on the coffee table needs to have a low center of gravity to avoid being toppled over.
Here's what it looks like in the living area by the couch.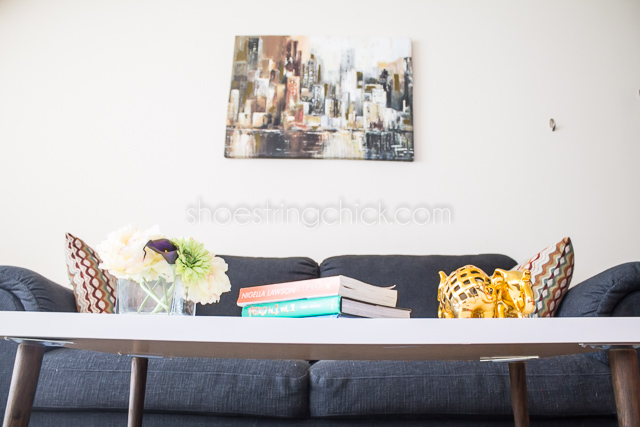 So, what's on the coffee table?
Some faux flowers from Afloral.com (more on that later), a few books that were lying around the apartment, and a couple of Nate Berkus elphant tea light candle holders which I found at Target for a steal a couple of months ago. You may have noticed one of the green ones in the diy hairpin leg nightstand post.
Well that's it! Another thing completed on the to-do list! Sort of. I have been thinking of changing the table top a bit. Something to give it more color/depth. Maybe tiles or applique or wallpaper. I am still thinking about what to do but this works for now!