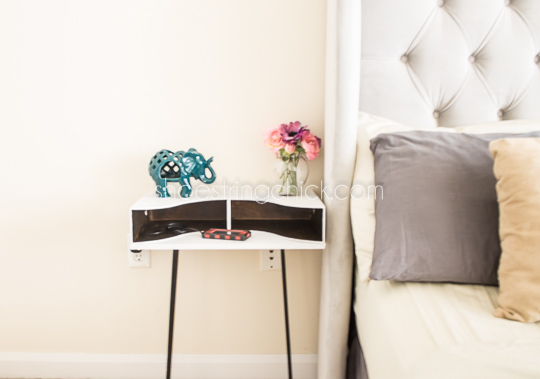 With our bedroom more "complete", we started working on nightstand ideas. We came up with this DIY hairpin leg nightstand for a mid-century modern look with an Ikea hack. Total cost was under $50 for each nightstand and I love these.
I like the idea of a simple nightstand and I wanted something drawer-less this time. I have nothing against drawers but, they have always encouraged hidden clutter. Past nightstands with closed drawers have become bedroom "catchall" clutter areas holding everything from receipts to books to body lotion.
For the nightstands, I wanted a DIY project like my home office desk. I could have bought something old and used paint for a makeover but I decided on a DIY from "scratch" to push myself creatively (another new year's resolution). I wanted something uniquely ours that we could say we built.
Disclosure: Some of the links in this post are affiliate links. This means if you click on the link and purchase the item, I will receive an affiliate commission.
l knew I wanted something mid-century modern (ish), in white, and not costing a fortune. I wanted a hairpin leg nightstand with a wooden "top". The first problem was finding affordable hairpin legs.
You can find hairpin legs on eBay
. The cheaper options are usually older legs stripped from old furniture. If you go with eBay, Look at pictures carefully before ordering and have a tape measure to check lengths. There are other sites that sell new hairpin legs but eBay is a great resource for those on a budget. I found a set of 4 hairpin legs (at the right height) for $35! Considering new hairpin legs can be sold for $35 each, this was a bargain!
If you do try this, you will probably need 4 legs for each nightstand. I used only 2 legs each which means these do not stand on their own. I planned to balance them against the wall for extra support so did not need 4 legs for each nightstand.
For the top of the hairpin leg nightstand, I wanted a different shape from the standard "rectangle" and I had the idea to use magazine files. From my extensive experience with Ikea, the Knuff Magazine file ($9.99 for a set of 2) came to mind. It has a "curve" and is made from plywood instead of plastic/cardboard like many others.
I used 2 Knuff magazine files to create the top of my nightstand. There was a "space" between the two Knuff "curves" which seemed like a waste, so we bought some additional plywood, measured to the right width and length, to place below the 2 Knuff magazine files and fill the empty horizontal space.
Here's the general setup before all the gluing, painting, and staining took place.
To hold all these pieces together, I used Liquid Nails Perfect Glue and so far everything has held up. I did not trust the Knuff files and plywood with a nail or screw.
First, attaching the 2 Knuff pieces using the adhesive.
Then we used some heavy books to keep the two pieces attached for about 30 minutes.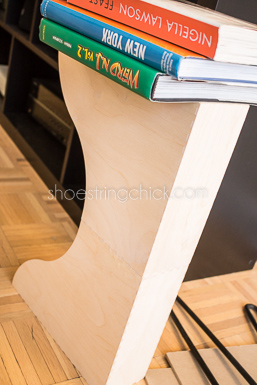 While waiting, I attached the 2 pieces of plywood to create the double layer wooden "slab".
After this we primed the joined Knuff pieces with Glidden primer and then let that dry.
The next steps got a little tricky and, in hindsight, I think I did things a bit out of order and made this a bit harder than it needed to be.
I attached the plywood "slab" to the hairpin legs (still using liquid nail). First I marked the outline of the hairpin leg location on the bottom of the plywood. Then placed the adhesive on both metal and wood. Then one of us had to lie on the floor supporting the legs while the other held the plywood "slab" and tried to match the leg location.
I should have glued the plywood "slab" and the Knuff pieces all together first, painted all the pieces and completed my wooden top part before trying to attach the hairpin legs. Everything still turned out great but if you do try this, you might want to assemble all the wood pieces first.
While the plywood and hairpin legs bonded, I returned to the Knuff pieces to apply the top coat and wooden stain. A flat white from Rustoleum Painters Touch collection for the outside, and the Honey stain from Minwax which we then let dry for a bit.
While that dried, I painted the area of the plywood "slab" that would be visible once the Knuff pieces were placed. The hairpin legs were well attached by then.
Finally, we attached the Knuff pieces to the plywood and hairpin legs. Then we let everything sit overnight in the living room.
Here is the finished product from my side of the bed!
Here is a full list of everything that we used for our DIY hairpin leg nightstands.
This wasn't complicated but it did take two people and some patience! The final product was definitely worth it and total cost of materials was under $50 each! Now I can strike something else off the to do list.
This DIY was also featured on Apartment Therapy