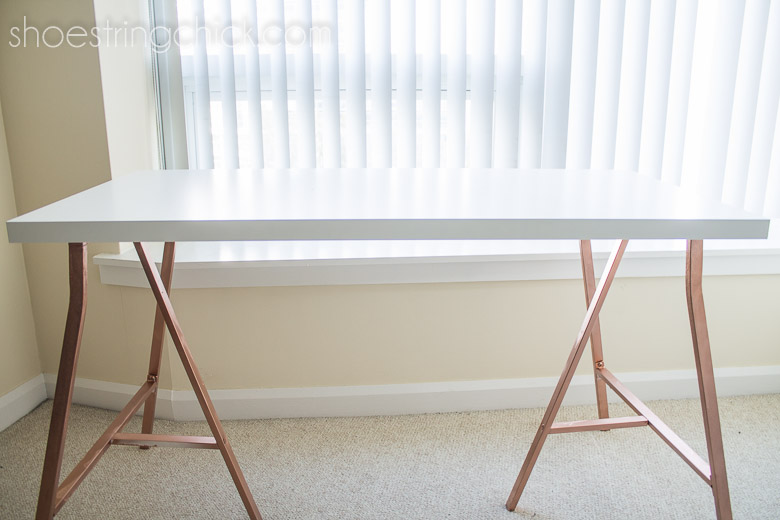 I am carving out a corner of our bedroom for my home office desk. I work from home a few days during the week and it really helps my focus to have an "office" area instead of working from the couch all day.
Here's the space I am planning to use. Lots of good light and currently a mess. This was taken during unpacking and setting up the "bed". The space hasn't really changed much since then.
I decided on the bedroom because I have plans for similar "extra" space in the living room.
My budget for the home office desk was $100 but, after searching online retailers and craigslist, I couldn't find anything that I liked. I was about to give up hope and order one of those ugly and unstable "computer desks" when I stumbled across a desk idea using Ikea items. Thanks Internet!
First, making the purchases at Ikea. Total cost $36.99 (not including tax)
Disclosure: Some of the links in this post are affiliate links. This means if you click on the link and purchase the item, I will receive an affiliate commission.
Next, some spray paint. I used Rustoleum Metallic spray paint in copper (about $5). I had to order from Amazon because the local hardware store did not have copper spray paint. I have seen variations of this DIY table with legs painted red, teal, blue, etc but I wanted a metallic finish.
I decided to spray paint the legs after assembly because I did not want to spray paint each piece, wait for the pieces to dry, then risk scratching them during assembly. I have seen other people spray paint the leg pieces before assembly so it is really up to you.
Since I live in an apartment building, I had to get a little creative with the spray paint setup. I ended up taking over the bathroom and lining the floor and surrounding walls with all the plastic and boxes I had saved from our past Ikea purchases for this special occasion.
Interestingly, the lighting in the bathroom was so yellow that it was sometimes hard to tell if I had missed a spot. In the end, it took about 10 minutes to spray paint each assembled leg. I had a face mask, I turned on the bathroom vent-fans, and I left the door wide open to make sure there was enough ventilation. I would definitely say do this outside if you have the space.
The finished legs.
Here's what the desk looks like, put together.