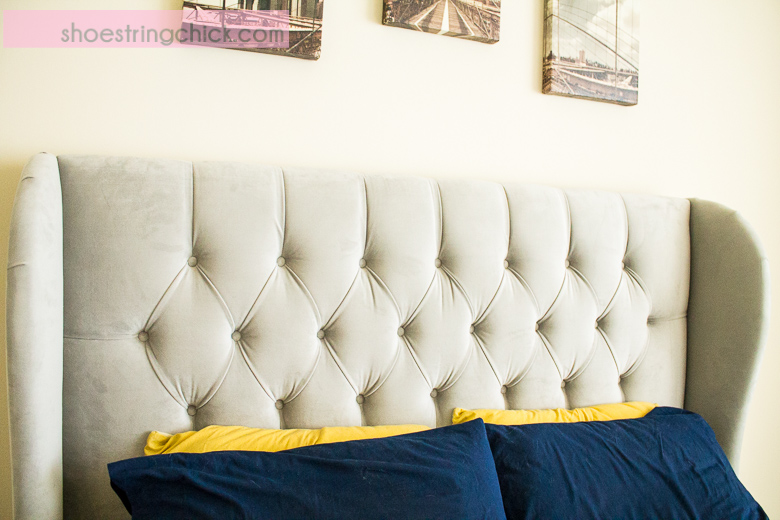 This actually took some thought. Should we go with a full bed (headboard + footboard + sideboard)? Or just the headboard and bed frame?
We looked at a lot of beds and headboards before deciding on the Skyline Furniture wingback headboard upholstered in grey velvet. I like the look of a complete bed in a master bedroom but, only if there is space for that. A full bed can be overwhelming in a smaller bedroom. It can make a small bedroom look crowded and cut off precious inches.
Here's the screenshot from the website. The images are not misleading and very true to the real thing.
Disclosure: Some of the links in this post are affiliate links. This means if you click on the link and purchase the item, I will receive an affiliate commission.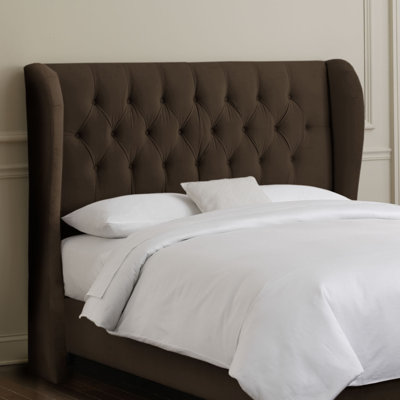 Skyline Furniture Wingback Headboard
from: Wayfair
I like the wingback look, especially as we also have a chair in the living room with the same shape. We found more expensive headboards while searching but decided on this one.
We later discovered that you can also find the same headboard cheaper on Amazon here.
We were a bit concerned about ordering something so large online but the packaging and shipping was great and everything arrived undamaged.
Of course I took some pictures.
When the box arrived I was a bit concerned that it was too small to contain a wingback headboard. I didn't realize the "wingback" has to be attached to each side of the headboard.
When setting up the headboard, we decided to attach the legs a bit lower than usual just to give the headboard some "height". The headboard attaches to the bed frame using two metal bars with adjustable heights. You can see one of them in a later picture. This headboard can be set up without the "space" between headboard and mattress as we have done.
These sheets came with us from Chicago where they worked well with the color scheme in our old apartment. Not so much here. I have to find new sheets and a new comforter.
We've had this headboard for a few weeks now and it looks great so far. The velvet material on the headboard is extremely soft and the color is true to the pictures on the Wayfair website. It has definitely classed up the bedroom a bit but we still have more pieces to find (like nightstands).
There are certainly more expensive or cheaper headboard options out there so do shop around. As I said, we later found the same headboard on Amazon here. We used Wayfair because they seem to have the most headboard options from a variety of brands to fit most budgets and they offer free shipping! That definitely comes in handy when trying to order something this large online.