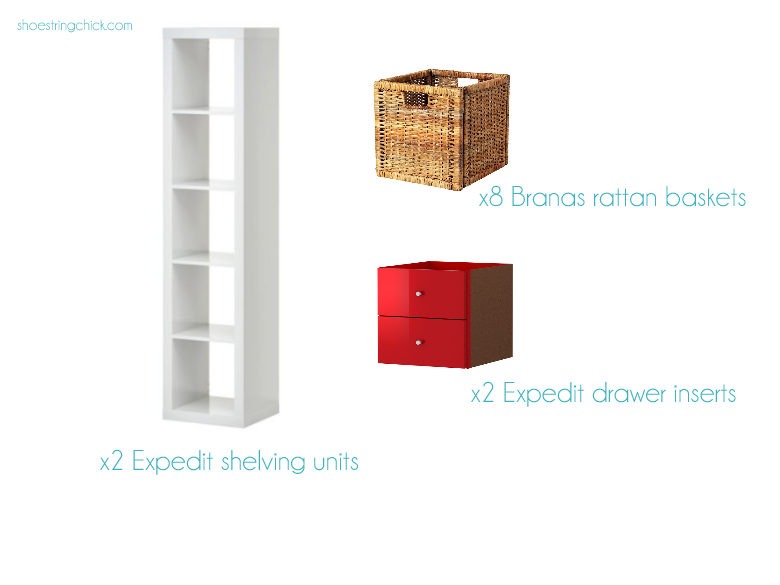 At the moment, the only furniture in the bedroom is a mattress and box spring. We have been looking at dressers lately and wanted to find a dresser for under $300. Although we have a decent sized closet in the apartment, there are lots of odds and ends that end up overcrowding closet shelves. I don't know about you but not every item of clothing needs a hanger.
Disclosure: Some of the links in this post are affiliate links. This means if you click on the link and purchase the item, I will receive an affiliate commission.
As you may already know, finding a non-hideous dresser for under $300 is a hassle, even trolling craigslist doesn't help. At first we thought about just re-purchasing the one we had in our old apartment. The blue 8 drawer Hemnes dresser below which we liked and which is also under $300:
But when we measured the space where the drawer would be, we realized the room would look a little too crowded. Our current apartment is smaller than our Chicago apartment (darn NYC area apartments) and I was worried that the Hemnes dresser would take up too much space. I dislike that overcrowded look you sometimes get when the foot of the bed is too close to a dresser. Second reason, next year, we plan to move closer to our jobs which might mean even less space given the layouts in lower Manhattan.
So we tried to find an affordable, not ugly, dresser that would make sense for our current and future space. I came up with the idea to use the Expedit bookshelves so off we went to Ikea–again to build a bedroom dresser alternative. We are already using an Expedit bookshelf as a tv stand in the living room, so why not a dresser as well?
Can you tell I like to shop IKEA?
The reasoning for the Expedit is that we can use it horizontally now that we have the space and, if we do move to a smaller place next year, we can also use them vertically in the new space. How many dressers can do that?
Here's what we used to "build" our bedroom dresser alternative for under $300.
You could actually have a similar style dresser for under $200 if you substitute the Branas and Expedit inserts for something else.
For Expedit insert options to bring the cost under $200: try these Closetmaid Fabric drawers  or the Itso fabric bins from Target for less than $10 each. Also the Dronas boxes from Ikea for less than $6 each. If you want to go with the wicker/rattan look you may be able to find some at a store like Target or Bed Bath & Beyond. You can even go with milk crates if you prefer.
You can see the finished dresser here.