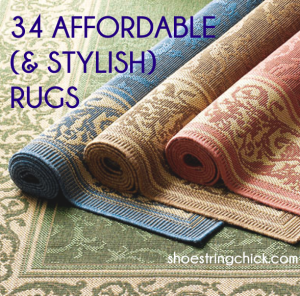 It's winter here in the Northeast and bare floors are the worst when the weather is 12F outside. The right rug can keep your feet warm AND tie a room together. Unfortunately it can be hard to find affordable rugs that are also good looking and fit with your aesthetic.
Many people still shop for rugs in store and there is certainly something to be said for being able to feel out a rug before purchasing. However, if you're willing to think outside the box you can find affordable rugs for your home or apartment that will look and feel great. You just have to be prepared to shop online.
Disclosure: Some of the links in this post are affiliate links. This means if you click on the link and purchase the item, I will receive an affiliate commission.
I ordered our living room rug online. It's a white rug with a  blue "trellis" design (shown below) for our tiny apartment. I shared this on Instagram a while ago. As you can see I like to take risks since I have a white rug and dog.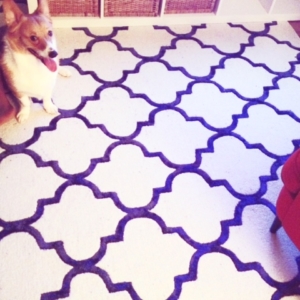 If you're interested, you can find a rug similar to ours here.
After searching online, I've found 34 affordable rugs for you that cost under $300. If you are reading this at a later date, please note that at the time of my writing this post, these rugs were all priced below $300. Prices may change or items may sell out.
Some of the rugs below are also available in stores so be sure to visit if you have one of these retailers near you.
Enjoy!