With a few days away from work before the New Year, we took the train from Seattle to Vancouver, BC to get away for a few days. This was my first trip to Canada and I was looking forward to it.
Vancouver felt just enough like a US city to be "comfortable" but with enough "foreign-ness" to remind you it is another country. I was shocked to learn Canada still has the Queen of England on its currency but I understand. I was raised in a Commonwealth country myself. It felt like every where we went to eat there was poutine (which I now like to call "advanced fries"). Poutine is now the only way I will eat fries from now on…sorry America. Whenever we paid for something I reminded myself the exchange rate was in our favor (hurray) otherwise some of the prices for dining out were eyebrow raising.
In Vancouver we spent most of our time relaxing in the city…except for that earthquake and this trip to Capilano Suspension Bridge.
We stayed at the Pan Pacific Vancouver with a gorgeous view of Vancouver Harbour. Vancouver definitely gives Seattle a run for it's money when it comes to proximity to natural beauty and great views.
Least fun part of our trip was the 4.3/4.8 earthquake that happened while we were in Vancouver. This was, apparently, one of the strongest earthquakes to hit Vancouver in the last 10 years. It was close to midnight and we were up watching TV in our hotel room when the earthquake happened. The room shook and rattled for a good number of seconds and it felt as if we were vibrating? I've never been in an earthquake that strong before so it was an experience! After the earthquake, the hotel PA system announced that there had just been an earthquake and everyone was told to stay in their rooms. The next morning it was all over the news. Thankfully nobody was hurt where we were!
Earthquake aside, Vancouver is a truly gorgeous city. Go visit if you can! Most of the people who came up on the train with us were heading to Whistler for snow sports. We spent most of our time relaxing in the city. We did make time to go to Capilano Suspension Bridge which we had heard was a MUST SEE.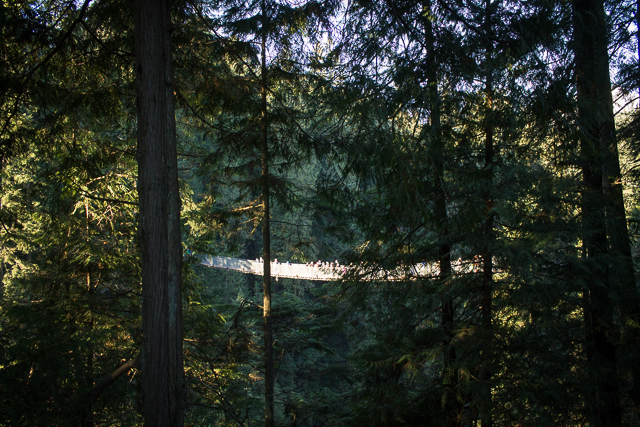 Across the bridge there's the Tree Top Adventure which is a series of smaller bridges high in the tree tops (get it?). Walking across the smaller bridges was no less scary than the main bridge. This was a one-way trip (no turning around) so once we started we had to walk across all the bridges to exit. These bridges squeak! Not helping at all with my concerns.
Once out of the tree tops we crossed the bridge again to get back to the main park. I felt a bit better this time and ended up purchasing an "I survived Capilano Extension Bridge" magnet which now resides proudly on our fridge. We took some more pictures (not shown), admired the cliff walk, and got a small bite to eat after all that "hiking"..
The rest of our Vancouver vacation was relatively quiet. We spent the remaining few days relaxing and enjoying the dining/shopping options. Our favorite place for dinner near our hotel was Rogue Kitchen. There we learned that yam fries are actually sweet potato fries and I had a fishbowl drink to end all fishbowls. That thing was the size of my head.
Hoping to find time to visit Vancouver again this year. I heard there's a summer fireworks competition against other world cities. That sounds like fun.